Making Waves: Fishpeople's Quest to Change the Seafood Industry
Ask Duncan Berry about the seafood industry, and you can expect him to get philosophical. Covering about 70 percent of the Earth, the ocean strikes him as another planet. "We get in our special suits, and get in our special craft, and blast off for it, and then we bring protein back from it," he says. "These souls that go out there on the ocean are cowboys and cowgirls."

Berry's mission—and that of the company he co-founded, Fishpeople—is to change an industry that in many ways remains the Wild West, with murky supply chains and few worker protections.

The company launched in 2012, offering its seafood-based soups in 30 stores. Today, more than 6,000 stores sell its product lines, which have expanded to include frozen seafood meals, pre-cooked salmon and salmon jerky. The company expects to double its revenue this year, but Berry and others among Fishpeople's leadership insist that the ultimate goal extends beyond financial metrics. "The whole reason that we set about to do what we did was we wanted a different relationship with the sea, and we wanted a different relationship with the communities that depend on the sea," Berry says.
FISHPEOPLE
Business: Branded seafood products, including soups, meal kits and wholesale offerings

Founders: Duncan Berry and Michael "Kipp" Baratoff

Mission: Transform the seafood industry through sustainable practices and fair treatment of workers

Investor: Advantage Capital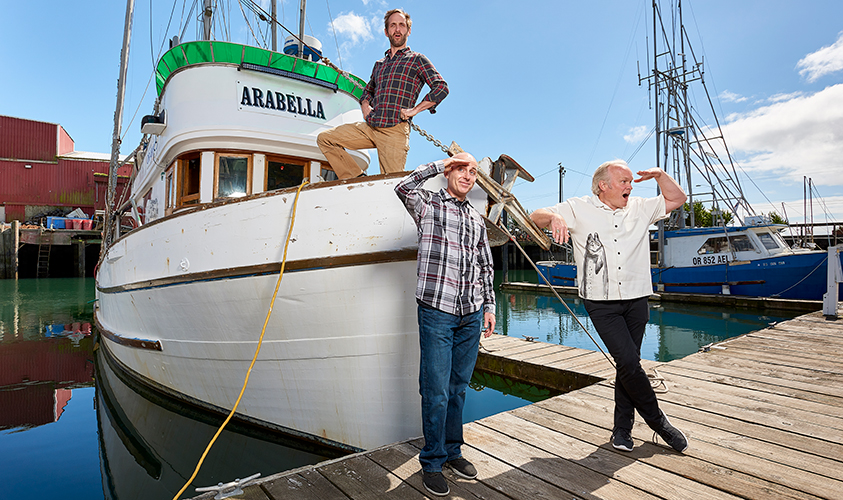 SEE FOOD DIFFERENTLY
Berry, 63, joined the seafood frontline when he was just 13 years old. On his family's fishing vessel, he trolled for salmon in the Graveyard of the Pacific—an area at the mouth of the Columbia River that has wrecked hundreds of ships. At 16, he became a ship captain. After two years (and losing two boats at sea), he moved to the Caribbean, then returned to the states and launched a career away from the water. He founded two companies in the apparel industry, sold them in 2006 and moved back to the Oregon coast.

Soon after relocating, he was asked for input on a potential marine reserve in the state, which got him thinking about ocean life within supply chains. Berry discovered the United States imports about 91 percent of its seafood. He learned that a "significant portion" of that seafood is caught in U.S. waters, shipped overseas for processing, and then returned to the United States, according to the National Oceanic and Atmospheric Administration. That struck Berry as inefficient and potentially harmful to the environment and U.S. jobs.

In 2010, at a sustainability-focused roundtable with Oregon's governor, Berry met Michael "Kipp" Baratoff, who co-founded a private equity firm focused on sustainable real asset investing with over $2 billion of assets under management.

Two years later, Berry and Baratoff, 41, banded together to launch Fishpeople.

"Duncan is the wild force of creative nature and Kipp is like a supercomputer," says Ken Plasse, who joined Fishpeople as CEO in 2015. "You couldn't find two more opposite people with the same heart to help our oceans, improve our local communities and make a difference to consumers."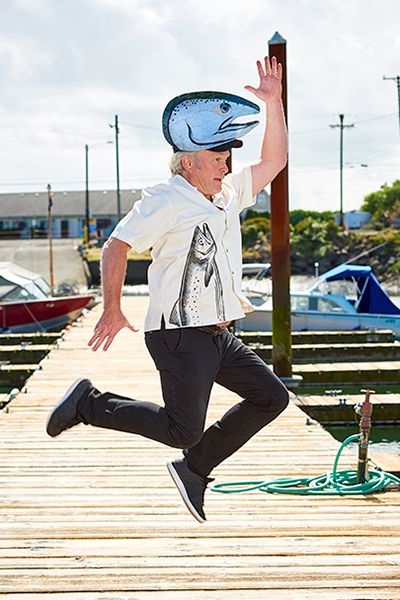 "The whole reason that we set about to do what we did was we wanted a different relationship with the sea, and we wanted a different relationship with the communities that depend on the sea."
DUNCAN BERRY
Co-Founder, Fishpeople
HOOKING INVESTORS 
Berry and Baratoff had lofty goals for Fishpeople and they needed capital to achieve them. The company wanted to forge strong relationships with fishing captains, but building landings that their boats could use exclusively would cost millions of dollars. There were other sizable expenses, too, such as building a processing plant and supporting product innovation.

To finance those investments, the company raised $6 million in Series A funding in 2015 and sought additional capital two years later. That's when Tyler Mayoras, a principal with investment firm Advantage Capital's food and agriculture fund, first heard about Fishpeople. The company met his fund's basic criteria, including its mandate to support rural job creation. Licensed through a U.S. Department of Agriculture program, the $150 million fund must invest at least 90 percent of its capital in rural areas. But Mayoras wasn't hooked immediately. "We see a lot of food companies, and we're trying to find things with uniqueness," he says. "And on the surface, seafood didn't seem interesting to me … I mean, fish sticks have been fish sticks forever."

What ultimately convinced Mayoras was a detail included on all Fishpeople packaging: a traceability code. Mayoras plugged the code into the "Trace Your Fish" section of the company's site "and up pops the picture of the boat and the captain that caught the fish," he says. "It really kind of blew my mind."

The information linked to the traceability code—including where the fish was caught, comments from the captain and the name of the boat—is intended to gain consumers' trust. The seafood industry lost a fair bit of that in 2016, when a study from international nonprofit Oceana found that of 25,000 seafood samples tested worldwide, 1 in 5 were mislabeled as a different type of fish.

"If you just say traceability, people are like, eh, whatever. But when you actually see the picture of the boat and the captain, wow, that's very different," Mayoras says. "I thought, in this era of clean ingredients and understanding where your food comes from, that would be just a huge competitive advantage."

Using traceability to differentiate itself in a crowded market is a "smart move" for Fishpeople, according to Ignacio Kleiman, managing partner and founding member of Antarctica Advisors, an investment bank focused on the seafood industry. "There's a handful of large players, but there are many, many midsize players. It's a pretty competitive industry," he says.

There are other companies with the traceability technology, but it's not always heavily used or made available directly to the consumer, he adds. And while U.S. consumers' interest in tracking food sources hasn't yet caught up to Europeans', Kleiman expects that to change. "Sooner or later, it's going to be more important—what we're eating or where it is coming from."

In 2017, Advantage led a $12 million round of Series B funding for Fishpeople. To persuade other potential investors, Mayoras sent out a traceability code and urged them to plug it into Fishpeople's site. He credits the code with helping entice investors to meet the company's team, which ultimately bore fruit. "They all ended up doing the deal," he says.
SAFE LANDING
To make food traceability meaningful, Fishpeople needs reliable, high-quality sources for its product. That requires the cowboys and cowgirls of the ocean.

Advantage's investment helped pay for the three landings in small communities where Fishpeople's independent fishermen dock: Ilwaco, Washington (population 929); Garibaldi, Oregon (population 801); and St. Mary's, Alaska (population 550), its northern-most landing. The landings are used exclusively by boats that provide seafood for the company.

Captains want to get back on the water immediately, so Fishpeople treats boat docking like an Indy 500 pit stop—the landings' general managers stay in contact with the captain before the boat heads in to ensure minimal time on the dock. While at the landing, boat crews have access to hot meals, groceries and plenty of washers and dryers to do laundry.

John Tinker Jr., a longtime fisherman who works along the Yukon River in Alaska, says he appreciates the company's approach. "I've been fishing since I can remember—I would say I probably started when I was 10," says the 42-year-old, who operates from two open skiffs, Winter and Skuzzi, both 24 feet long and 7 feet wide. Tinker began selling to Fishpeople in 2017 and the company, which has bought more than 8,000 pounds of coho and keta salmon from him, has become his preferred buyer. He only sells elsewhere when Fishpeople reaches its purchasing capacity.

Fishpeople's landing is close to Tinker's home—without it, he probably would need to take a two-hour boat ride down the river to sell his haul. That proximity is a draw for him, as is the company's receptiveness to feedback.

"I gave Kipp some pointers on ways to improve operations, and he's been working on them—that's another thing you don't see from most buyers," Tinker says. "He respects us and our way of life. If you give respect to people, you're going to get their respect back."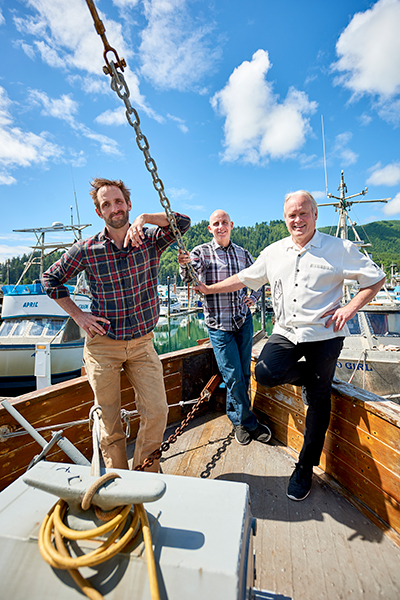 "You couldn't find two more opposite people with the same heart to help our oceans, improve our local communities and make a difference to consumers."
KEN PLASSE
CEO, Fishpeople

That philosophy extends to Fishpeople's employees, too. Before Plasse joined the company, he toured its processing plant in Toledo, Oregon, a city with about 3,500 residents. The plant's nine employees, along with the full-time employees who manage the landings, receive health insurance and are paid above the local minimum wage, benefits that Berry says aren't typical in the industry.
NETFLIX AND KRILL 
Unlike chicken or pork, U.S. seafood consumption hasn't increased much over the years. Cost is one factor—fish is a more difficult protein to source—but so is product innovation. "Compared to other sectors of the food industry, the seafood industry is a little behind," says Antarctica Advisors' Kleiman.

While researching consumer preferences prior to founding Fishpeople, Berry was surprised to learn that seafood intimidates many home cooks who fear they'll screw it up. "It was sort of a blind spot for me. I can cook salmon 25 different ways," says Berry, who helped develop recipes for all of Fishpeople's products. According to one study he came across, 70 percent of U.S. seafood consumption happens in restaurants. That made him wonder, "How can we make that easier for them, so they stay home, watch Netflix, not pay a waiter, and have an amazing meal?"

Fishpeople has tried to address the intimidation factor with easy-to-prepare products. The company's frozen seafood kit, introduced in 2014, includes two filets, ingredients to add before baking (like Meyer lemon and fresh herb panko), a foil pan and tin foil, and a topping (such as parmesan cheese) to add before serving. The kit also comes with instructions that promise a meal in 20 minutes.

The meal kits have played a key role in driving Fishpeople's revenue, which tripled from 2015 to 2017. Part of the revenue growth came as the company's soups expanded from specialty stores to large chains such as Kroger and online retailers such as Amazon Fresh and Thrive Market, but much of it derived from club stores like Sam's Club, which picked up the frozen seafood kit in 2016.

By year-end, Fishpeople plans to introduce two more products: salmon jerky in four flavors (including ancho chile and lime) and pre-cooked salmon chunks for the refrigerated grocery section, for use in salads or pasta.

For a retailer like Whole Foods, which has stocked Fishpeople's soups since 2012, the company's supply chain was a powerful draw.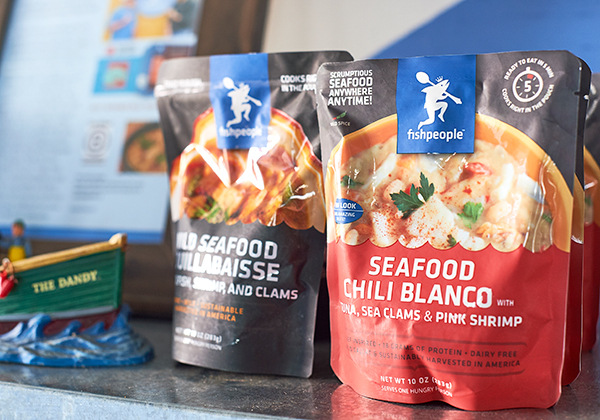 "They work directly with fishermen. They are on the docks, and so that right there gives them a huge opportunity to have an amazing quality product," says Wesley Rose, global executive coordinator of seafood for Whole Foods Market. He adds that the traceability of Fishpeople's products aligns with the grocery retailer's ethos. "Obviously when sourcing, we are looking for a product that is quality first and foremost. And we want it to be transparent, we want it to be sustainable."

Before Whole Foods began carrying the meal kits, it requested several changes, including a box with smaller dimensions to better fit the limited real estate on its store shelves. CEO Plasse says that kind of buyer feedback strengthens the company's innovation efforts. And unlike in its early days, Fishpeople now has buyers who want to provide feedback even before a product goes to market.

"That's partly because now we're a brand that is recognized for doing innovation and we've got enough distribution," Plasse says. "Before it was just, 'OK, you've got 10 minutes to pitch by phone. Don't even fly out here. Send me the samples and I'll taste it and let you know.'"

About 65 percent of Fishpeople's revenue today comes from wholesale offerings, including fish sold at Whole Foods' seafood counter. But Mayoras expects the majority of sales to shift in the coming years to consumer packaged goods, which have better margins. That's likely to improve the bottom line, but financial metrics are just one benchmark of the company's success. The overarching goal is improved treatment of fish and the people who pull them out of the water and process them. That means more sustainable practices for fishing and a better livelihood for seafood industry workers—and not just the ones at Fishpeople.

"If we can create a brand that helps people get the fish they deserve in a simple format and people vote for that brand, our industry will change because it's a profit-based system," Plasse says. "That's the change I really think and hope we can make."

Link to original article : http://middlemarketgrowth.org/cover-fishpeople-is-changing-the-seafood-industry/
YOU MIGHT ALSO LIKE THESE